Vascular Disease - Jaff, White 9781935395164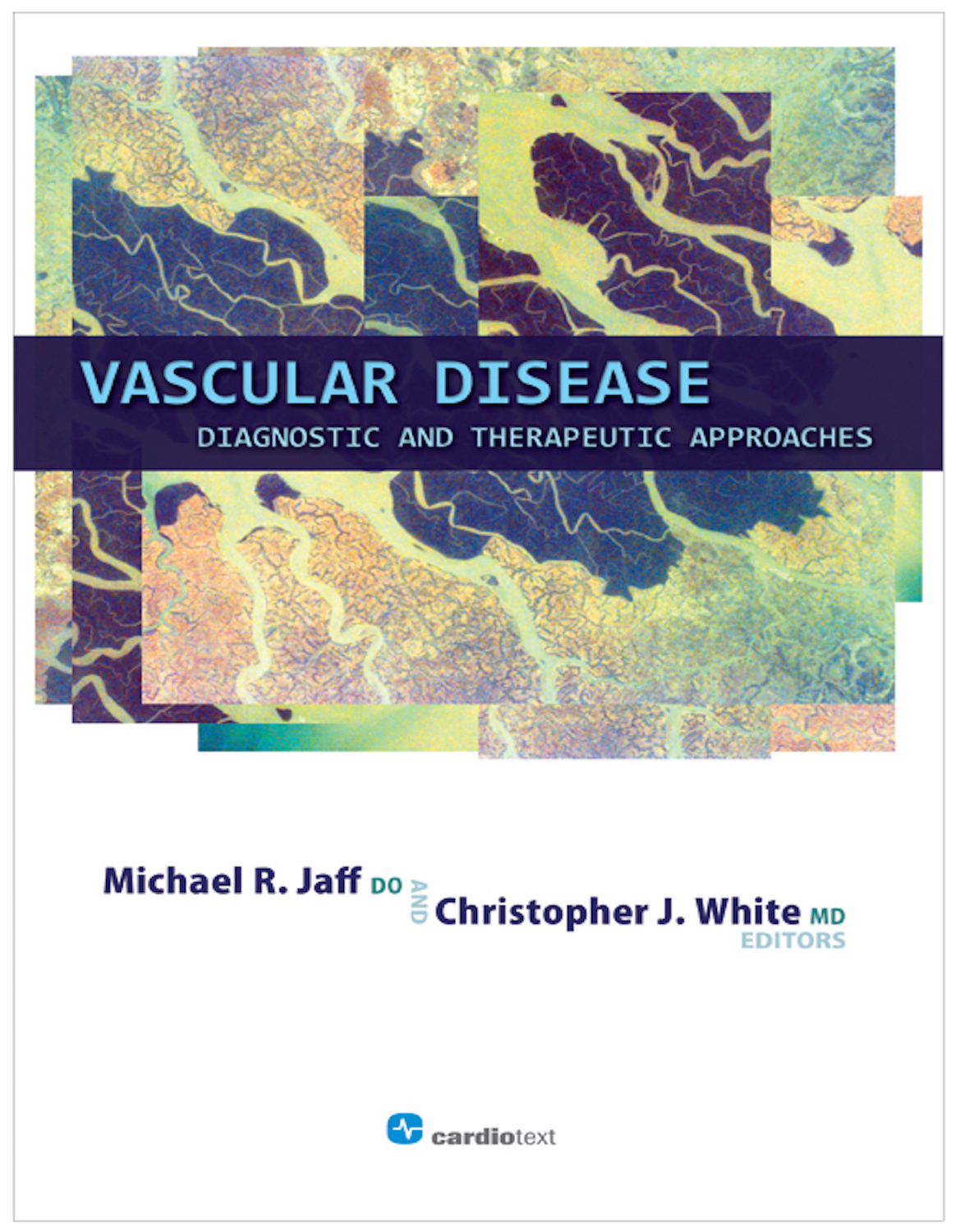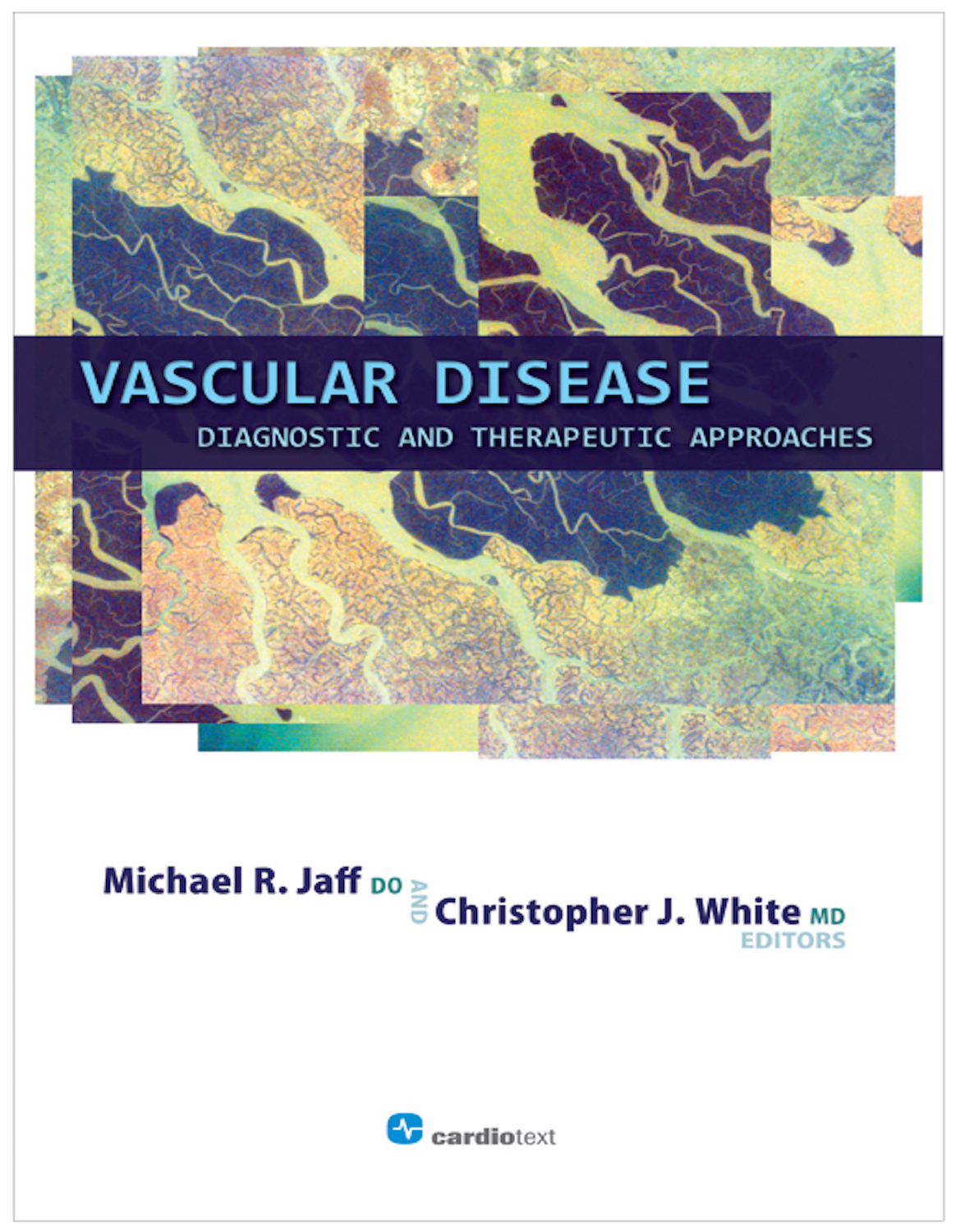 sale
Vascular Disease - Jaff, White 9781935395164
Vascular Disease: Diagnostic And Therapeutic Approaches
Edited by Michael R. Jaff; and Christopher J. White
Foreword by Jess R. Young, MD
Product Details:
Published April 2011
ISBN: 9781935395164
Format: Hardcover; eBook
Trim Size: 7 x 10 inches
582 pages, 370 illustrations/figures/tables, full color interior
Patients with vascular disease offer great challenges to physicians of multiple backgrounds. The rapid improvement in multimodal imaging and the growth of endovascular strategies for treatment of peripheral vascular disease have resulted in an explosion in interest in these patients. But patients and physicians often misdiagnose vascular disease as normal signs of aging, resulting in presentation to specialists at the end stage of the disease process. This textbook, edited by two recognized experts in the field, is designed to offer unique and comprehensive information on the diagnostic approach to and state-of-the-art treatment of arterial and venous diseases. This multispecialty textbook will be a critical addition to the practicing clinician's library.
"This is a well-conceived and well-executed text dealing with the full gamut of peripheral vascular diseases, their diagnosis, and treatment...
While other texts are similar with respect to content and intended audience, Vascular Disease is unique at least in its organization of the subject matter. By uniting pathophysiology, risk factors, diagnosis, and medical and surgical treatment of each anatomic distribution in one chapter of section, the editors have provided a facile reference. A particular chapter will inform the physician's or nurse's care of an individual patient, without that medical profession having to skip around - using the index - to garner or refresh their expertise in, say, the 'contemporary management of superior vena cava syndrome.'"
- Benjamin M. Jackson, MD (Ann Thorac Surg 2011;92:1555)
EDITORS:
Michael R. Jaff, DO, FACP, FACC, FAHA, Associate Professor of Medicine, Harvard Medical School; Medical Director, Vascular Center, Massachusetts General Hospital, Boston, Massachusetts; Past President of the Society for Vascular Medicine (SVM)
Christopher J. White, MD, FSCAI, FACC, FAHA, FESC, Professor of Medicine, System Chairman for Cardiovascular Diseases, The John Ochsner Heart and Vascular Institute, Ochsner Medical Institutions, New Orleans, Louisiana; President of The Society for Cardiovascular Angiography and Interventions (SCAI)
TABLE OF CONTENTS:
Part 1 Evaluation of the Patient with Peripheral Vascular Disorders
1. Taking a Vascular History and Physical Examination
Peter C. Spittell and John A. Spittell Jr
Part 2 The Assessment of Peripheral Artery Disease
2. The Diagnosis of Peripheral Artery Disease
Stephen O'Connor, Thomas J. Kiernan, and Michael R. Jaff
3. Peripheral Vascular Angiography
Jose A. Silva and Christopher J. White
Part 3 Aortic Arch and Supraclavicular Artery Disease
4. Subclavian and Upper-Extremity Artery Disease
Jeffrey A. Goldstein, Raghu Kolluri, and Krishna Rocha-Singh
5. Extracranial Carotid Artery Disease
Christopher J. White and Michael R. Jaff
6. Vertebrobasilar Insufficiency
J. Stephen Jenkins and Tyrone J. Collins
7. Hemodialysis Access Intervention
John A. Bittl
Part 4 Aortic, Visceral, and Renal Artery Disease
8. Diseases of the Thoracic Aorta
Mark F. Conrad and Richard P. Cambria
9. Abdominal Aortic Aneurysmal Disease
Tikva S. Jacobs and Michael L. Marin
10. Chronic Mesenteric Ischemia
Jose A. Silva
11. Renal Artery Disease
Christopher J. White and Michael R. Jaff
Part 5 Lower-Extremity Artery Disease
12. Acute Limb Ischemia
Kenneth Ouriel and Vikram S. Kashyap
13. Occlusive Diseases of the Abdominal Aorta and Iliac Arteries
Joseph J. Ricotta II and Timothy M. Sullivan
14. Femoropopliteal Artery Disease
Gary M. Ansel and Mitchell J. Silver
15. Critical Limb Ischemia: Limb Salvage, Angiogenesis
Ashequl M. Islam and Kenneth Rosenfield
16. Vascular Access Complications and Treatment
Stephen R. Ramee and John P. Reilly
Part 6 Nonatherosclerotic Artery Disease
17. Thromboangiitis Obliterans (Buerger's Disease)
Jeffrey W. Olin
18. Systemic Vasculitides
Reena L. Pande and Joshua A. Beckman
19. Vasospastic Diseases
Raghu Kolluri and John R. Bartholomew
20. Fibromuscular Dysplasia
Jeffrey W. Olin
Part 7 Venous Disease
21. Deep Venous Thrombosis and Pulmonary Embolism
John A. O'Dea, Thomas J. Kiernan, and Michael R. Jaff
22. Contemporary Management of Superior Vena Cava Syndrome
Andrew C. Eisenhauer
23.Uncommon Venous Disorders
Jessica Nevins Morse and Bruce H. Gray
24.Chronic Venous Insufficiency and Varicose Veins
Steven Dean, and Saundra S. Spruiell
Part 8 Hypercoagulability and Uncommon Vascular Diseases
25.Hypercoagulable States
Julia A. M. Anderson and Jeffrey I. Weitz
26.Environmental and Hereditary Vascular Disorders
Juzar Lokhandwala and John R. Bartholomew
REVIEWS:
4-Star Doody Review (92/100)
Expert Review
------------------------------------------
Copyright 2011 Doody Enterprises, Inc.
Sachin V Phade, M.D. (2011) [Review of the book Vascular Disease: Diagnostic and Therapeutic Approaches]. Doody's Review Service.
Description
------------
Edited by two internationally renowned experts in vascular medicine, this book introduces readers to a broad range of vascular diseases.
Purpose
------------
The book aims to be the comprehensive reference source for all clinicians involved in the management of patients with vascular diseases.
Audience
------------
The target audience is primarily practitioners and trainees in vascular medicine, cardiology, and vascular surgery. However, other interventionalists, medical doctors, advanced level providers, and caregivers also will find the book valuable, as it is pertinent for the care of the elderly, smokers, patients with diabetes, and those who are otherwise afflicted with vascular diseases.
Features
------------
Written by a multidisciplinary team of medical doctors and surgeons, the book outlines the basic elements of a vascular history and examination but also delves into complex, and sometimes controversial, aspects of the evaluation and medical and surgical treatment of patients with vascular diseases. The chapters are authored by recognized authorities, who concisely detail the relevant basic anatomy and pathophysiology, diagnostic workup, medical management, and complications for practicing clinicians. The book introduces open surgical options and endovascular interventions without distracting readers with too many technical details. It begins with the evaluation of patients with peripheral vascular disease and includes sections focused on the assessment of peripheral artery disease; the aortic arch and supraclavicular disease; aortic, visceral, and renal artery disease; lower extremity arterial disease; nonatherosclerotic artery disease; venous disease; and hypercoagulability and uncommon vascular diseases. The book is well organized and easy to read, and the data is current, pertinent, and accompanied by numerous tables, colorful photographs, and relevant figures. Finally, each chapter includes a thorough bibliography for readers who want to review the original study designs and results.
Assessment
------------
This is an excellent, succinct, and complete review of vascular medicine. It is a must-have for any student or practitioner who cares for patients with vascular diseases, especially vascular medicine specialists, vascular surgeons, cardiologists, geriatricians, internists, and interventional radiologists.
Book Review
(Circulation. 2012;125:e395.)
Copyright 2012 American Heart Association, Inc.
Circulation is available at http://circ.ahajournals.org
DOI: 10.1161/CIRCULATIONAHA.111.057455

Vascular Disease: Diagnostic and Therapeutic Approaches
Michael R. Jaff, DO, and Christopher J. White, MD, eds. 582 pages. Minneapolis, MN, USA: Cardiotext, 2011. $169.00 ISBN: 978-1-935395-16-4
Vascular Disease: Diagnostic and Therapeutic Approaches is a comprehensive textbook that describes both common and rare vascular disorders facing the practicing clinician. As stated in the Preface, vascular disease is increasing in prevalence with our aging population, and there is a relative lack of qualified clinicians who are trained to diagnose and treat it. Drs Jaff and White are world-renowned experts in the field of vascular medicine, and in editing this book, they provide an ideal blend of vascular medicine and interventional cardiology perspectives. Equally impressive, the editors have assembled a remarkable team of vascular medicine experts and successfully synthesized information in a logical, flowing manner. These contributions distinguish this book from its predecessors by taking the focus away from the approach of a specific medical or surgical specialty and making the book applicable to a wider array of clinicians, trainees, and students. In fact, the book will ideally be read by someone at the beginning stages of medical training, but it provides up-to-date references for those in practice who are looking for answers to questions that arise daily in the care of vascular patients.
The book begins with an excellent overview of the physical examination findings and noninvasive and invasive diagnostic testing options in vascular patients. It then delves into specific vascular disorders, including subclavian and upper-extremity peripheral arterial disease, carotid and vertebral artery disease, aortic diseases, renal artery disease, and lower-extremity peripheral arterial disease. The book concludes with a comprehensive synopsis of nonatherosclerotic arterial diseases, venous disorders, and hypercoagulable states. The chapters are well written, and images, illustrations, and diagrams are used throughout the textbook to represent these vascular conditions superbly.
Despite controversy surrounding the optimal treatment of patients with some forms of vascular disease (eg, carotid steno- sis, critical limb ischemia), the authors do an exceptional job of presenting the available literature and the pros and cons for each treatment. In fact, 2 landmark clinical trials, the Carotid Revascularization Endarterectomy Versus Stenting Trial (CREST) and the Angioplasty and Stenting for Renal Artery Lesions (ASTRAL) trial, are well described, and the authors provide an excellent critical appraisal of the design and results. The authors also are able to describe gene and cell therapy advances (specifically in critical limb ischemia) and provide an accurate interpretation of the possible future use of these biological agents in patients with ischemic diseases. With a few exceptions, the authors avoid describing complicated scoring systems (eg, TransAtlantic Inter- Society Consensus classification) and instead anchor their discussion around symptom status and anatomic considerations. All in all, the chapters are excellent references for the reader and are not specifically aimed at the subspecialist, another appealing aspect of the book.
The most powerful part of this book is its ability to incorporate a description of anatomy and physiology with state-of-the-art diagnostic strategies and treatment options. Additional strengths of the book include the editors' choice of providing historical perspectives on treatment choices and indications and/or contra-indications for the treatment of specific conditions. Although they are able to include results from many randomized clinical studies in the field, the authors were not able to maintain a fully up-to-date account of newly reported findings in vascular disease (an inherent limitation of all textbooks). Some critics may also state that the book's focus on endovascular therapy overshadows a mainstay of the treatment of vascular patients, surgical revascularization. Nevertheless, the treatment of vascular patients has shifted dramatically to an endovascular approach, and the book captures this extremely well.
In summary, Drs Jaff and White and their coauthors should be commended for their contribution to the vascular literature. The book is able to introduce concepts for the first-time reader and to comprehensively cover the main aspects of vascular medicine and endovascular medicine for the experienced physician. It will be a valuable commodity for practicing clinicians, trainees, and students alike.
Disclosures: None.
Manesh R. Patel, MD
W. Schuyler Jones, MD
Department of Medicine
Division of Cardiology
Duke University Medical Center
Durham, NC