ECG Masters' Collection, Volume 2 - Shenasa, Josephson, Estes, Amsterdam, Scheinman 9781942909200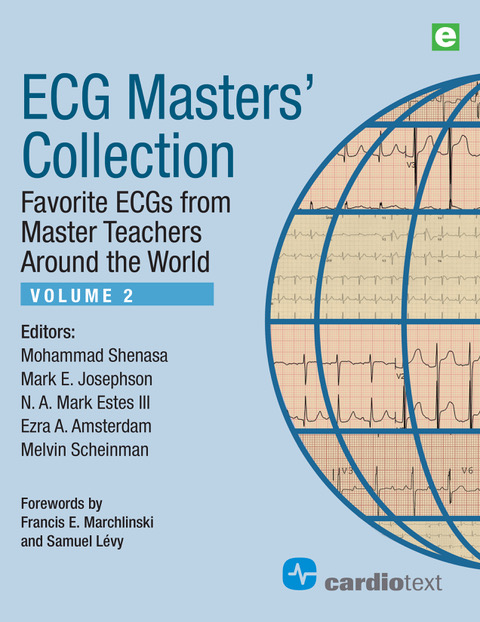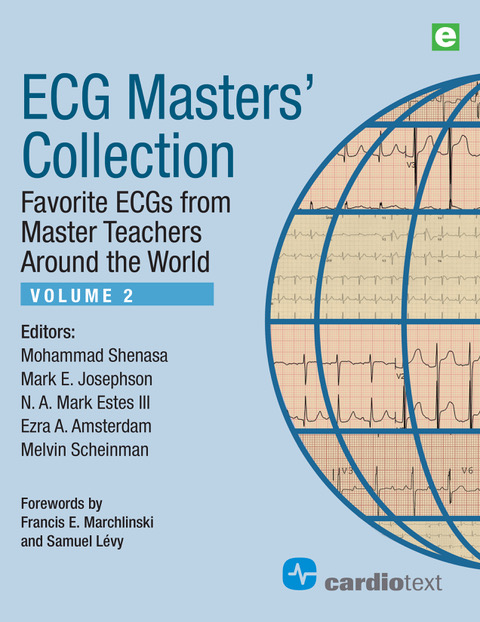 sale
ECG Masters' Collection, Volume 2 - Shenasa, Josephson, Estes, Amsterdam, Scheinman 9781942909200
Also available as ECG Masters' Collection Volume 1 + Volume 2, Print Bundle
ISBNs: 9781942909088 and 9781942909200
ECG Masters' Collection: Favorite ECGs from Master Teachers Around the World, Volume 2
Editors: Mohammad Shenasa, MD; Mark E. Josephson, MD; N.A. Mark Estes III, MD; Ezra A. Amsterdam, MD; and Melvin Scheinman, MD
Forewords by: Francis Marchlinski, MD and Samuel Lévy, MD
Product Details:
Publication Date February 2018
ISBN: 9781942909200
Format: Paperback and eBook set; eBook
Trim size: 8.5 x 11 inches
216 pages, 79 case studies
**To receive your free digital edition, if you purchased your book directly from Cardiotext, we will ship an access code with your print book. If purchased elsewhere, please send a copy of your receipt to info@cardiotext.com with subject line KLEIN 3 EBOOK, and we will email you a redemption code along with instructions on how to access the digital file. Please allow one business day for processing.
Over 75 exceptional electrocardiogram case studies curated from the libraries of 60 internationally recognized master teachers of ECG interpretation are brought together in this one-of-a-kind resource for student and teacher alike.

Organized by disease type, ECG case studies are presented in a clinical context followed by questions and discussion. Medical students, residents, fellows, physicians — anyone who is involved in caring for patients with various cardiovascular diseases and other systemic pathologies — will find this unique collection with a global perspective useful and practical in developing the skills necessary to reading ECGs.
EDITORS
Mohammad Shenasa, MD
Attending Physician, Department of Cardiovascular Services, O'Conner Hospital;
Heart & Rhythm Medical Group, San Jose, California
Mark E. Josephson, MD
Director, Harvard-Thorndike Electrophysiology Institute and Arrhythmia Service; Chief Emeritus, Division of Cardiovascular Medicine, Beth Israel Deaconess Medical Center; Herman C. Dana Professor of Medicine, Harvard Medical School, Boston, Massachusetts
N. A. Mark Estes III, MD
Professor of Medicine, Tufts University School of Medicine; Director, New England Cardiac Arrhythmia Center, Tufts Medical Center, Boston, Massachusetts
Ezra A. Amsterdam, MD
Distinguished Professor, Associate Chief (academic affairs), Division of Cardiovascular Medicine, University of California, Davis, Medical Center, Sacramento, California
Melvin Scheinman, MD
Professor of Medicine, Walter H. Shorenstein Endowed Chair in Cardiology; Chief of Cardiology Genetics Arrhythmia Program, University of California, San Francisco, San Francisco, California
Authors
Ahmed Abdel Aziz, MD, PhD
Baris Akdemir, MD
Jason Andrade, BSc, MD
Adrian Baranchuk, MD
Antoni Bayés de Luna, MD, PhD
Bernard Belhassen, MD
David G. Benditt, MD
Dan Blendea, MD, PhD
Maichel Sobhy Naguib Botros, MD, PhD
Jonathan Bui, MD
Haran Burri, MD
Catalin A. Buzea, MD, PhD
David J. Callans, MD
Sanoj Chacko, MD, PhD
Alan Cheng, MD
Paolo China, MD
Jane E. Crosson, MD
Andrei G. Dan, MD, PhD
Marc Dubuc, MD
Kenneth A. Ellenbogen, MD
Tamer S. Fahmy, MD, PhD
Miquel Fiol, MD, PhD
Robert Frank, MD
Benedict M. Glover, MD
Shahriar Heidary, MD
Hein Heidbuchel, MD, PhD
Henry H. Hsia, MD
Mohammad-Ali Jazayeri, MD
Mohammad-Reza Jazayeri, MD
Gautham Kalahasty, MD
Jonathan Kalman, MBBS, PhD
Bradley P. Knight, MD
Pieter Koopman, MD
Peter R. Kowey, MD
Andrew D. Krahn, MD
Balaji Krishnan, MD
Gilles Lascault, MD
Robert Lemery, MD
Mohamed Magdy, MSc, L'AFSA, PhD, MD
Moussa Mansour, MD
Robert J. Myerburg, MD
Yuji Nakazato, MD, PhD
Sercan Okutucu, MD
Ali Oto, MD
Santosh K. Padala, MD
Gemma Parry-Williams, MBChB, MRCP (UK)
Carlos Alberto Pastore, MD, PhD
Olivier Paziaud, MD
Andrés Ricardo Pérez-Riera, MD, PhD
Femi Philip, MD
Philip Podrid, MD
Magdi M. Saba, MD
Scott Sakaguchi, MD
Nelson Samesima, MD, PhD
Massimo Santini, MD
Sanjay Sharma, BSc (Hons), MD
Hossein Shenasa, MD, MS
Mariah Smith
Christian Steinberg, MD
Sakis Themistoclakis, MD
Vassil Traykov, MD
Nishant Verma, MD, MPH
David E. Ward, MD
Sayın Begüm Yetiş, MD
Li Zhang, MD
TABLE OF CONTENTS
Section 1 Introduction to the Interpretation of the Electrocardiogram
Section 2 Conduction Disturbances: Sinus Node Disease/Sick Sinus Syndrome, AV Conduction Disturbances, AV Blocks, Bundle Branch Blocks, and Fascicular Blocks
Section 3 Miscellaneous Phenomena: Concealed Conduction, Superabnormalities, Aberrancy Conduction, Premature Atrial and Ventricular Contractions (PACs and PVCs)
Section 4 Preexcitation Syndromes
Section 5 Early Repolarization (ECG Pattern and the Syndrome)
Section 6 Long and Short QT Syndromes
A. Long QT Syndrome
C. Torsades de Pointes
Section 7 Brugada Syndrome
Section 8 Narrow QRS Complex Arrhythmias
C. Atrial Tachycardia/Atrial Flutter
D. Atrioventricular Nodal Reentrant Tachycardia
G. Junctional Rhythms
Section 9 Wide Complex Arrhythmias
A. Ventricular Tachycardia/Fibrillation
C. Preexcited Tachycardia
Section 10 Ischemia and Infarction
Section 12 Paced Rhythms and Device Troubleshooting
Section 13 Heart Failure, LVH, and Cardiomyopathies
A. Arrhythmogenic Right Ventricular Dysplasia/Cardiomyopathy (ARVD/C)
G. Pericarditis
Section 15 Special Considerations: Age, Race, Gender, and Athletes
Section 16 Syncope and ECG Troubleshooting
DOODY'S REVIEW SERVICE BOOK REVIEW:
**Reviewer**
Sanbir S Sidhu, MBBS, MS (Ochsner Clinic Foundation)

**Description**
For this collection of thought-provoking ECGs, cardiologists around the world
were invited to submit cases that they felt demonstrated important
electrographic features.

**Purpose**
This book serves to educate and inform clinicians about important electrographic
pearls and potentially challenge some in interpreting complex ECGs.

**Audience**
The intended audience is all cardiology fellows, electrophysiology fellows,
general cardiology staff, and electrophysiologists.

**Features**
The greatest strength of the book is its organization. It allows readers to
quickly peruse the overall content of each case. Each case heading is bolded
and followed by text that is large and easy to read. Another key strength is
the presentation of the electrographic data. ECGs, EP studies, action
potentials, and other graphics are shown in large, color images with captions
explaining them. Authors seamlessly integrate these graphics into their text,
facilitating learning about the topic's subtleties. In some scenarios, the
authors ask questions after a case is presented which drives further discussion
that helps readers better understand the material. References at the end of
each case direct readers to further resources.

**Assessment**
Overall, this is a great book for all cardiologists. It can strengthen one's
skills at reading and interpreting ECGs, and can expose even well-trained staff
to new and upcoming issues. It is certainly a must read for cardiology fellows
planning on going into electrophysiology. I would recommend this book to my
friends and colleagues in cardiology.